Are you looking for the grill or smoker of your dreams? We might be able to help you out.
Over the years, we have seen the industry's growth and sold some of the best products to date. Looking for something smaller, high-end, or more well-rounded? We've selected three of our favorite competition smokers from our trusted manufacturers and prepared overviews of each of them for your convenience. Which one will be your favorite?
This is a genuine offset wood and charcoal-fired tank smoker for the true pitmaster. It not only "looks the part" but also gives you the original wood fire BBQ flavor and results.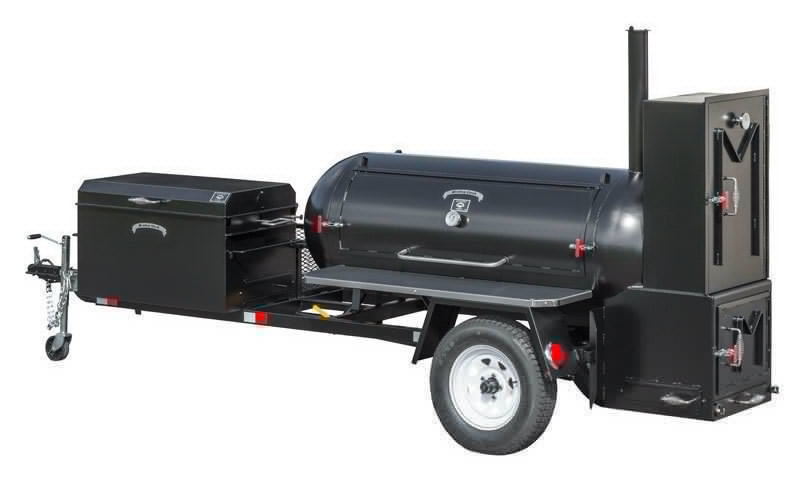 Dimensions
Built on highway legal trailer. 16' L x 6' W
Cost
Higher Range
Maintaining Heat
Longer warm-up time due to 250 gal. tank. Once hot, it holds a steady temperature, and adjustments on the manual air vents are minimal.
Pros:
This smoker is made with 3/16" steel and built in the US in New Holland, PA.
It has a reverse-flow system and round ends on the tank to enhance the performance.
Standard features include: 3-shelf warming box, water-tight grease tray, 2" ball hitch, LED lights, drain with ball valve, removable firebox ash pan, stainless steel thermometer, and positive lock latches on the doors.
304 food-grade stainless steel rod grates are easy to clean.
Cons:
The size makes this smoker very large for most yards of home cooks.
This is a manual operation smoker meaning there are no "set it and forget it" options.
Beneficial Add-Ons:
To get the most from the TS250, having an insulated firebox will save you roughly 40% of your wood and charcoal during use. There are also stainless steel exterior shelves and a charcoal grilling pan that can be added.
This pellet grill has a great value for the investment.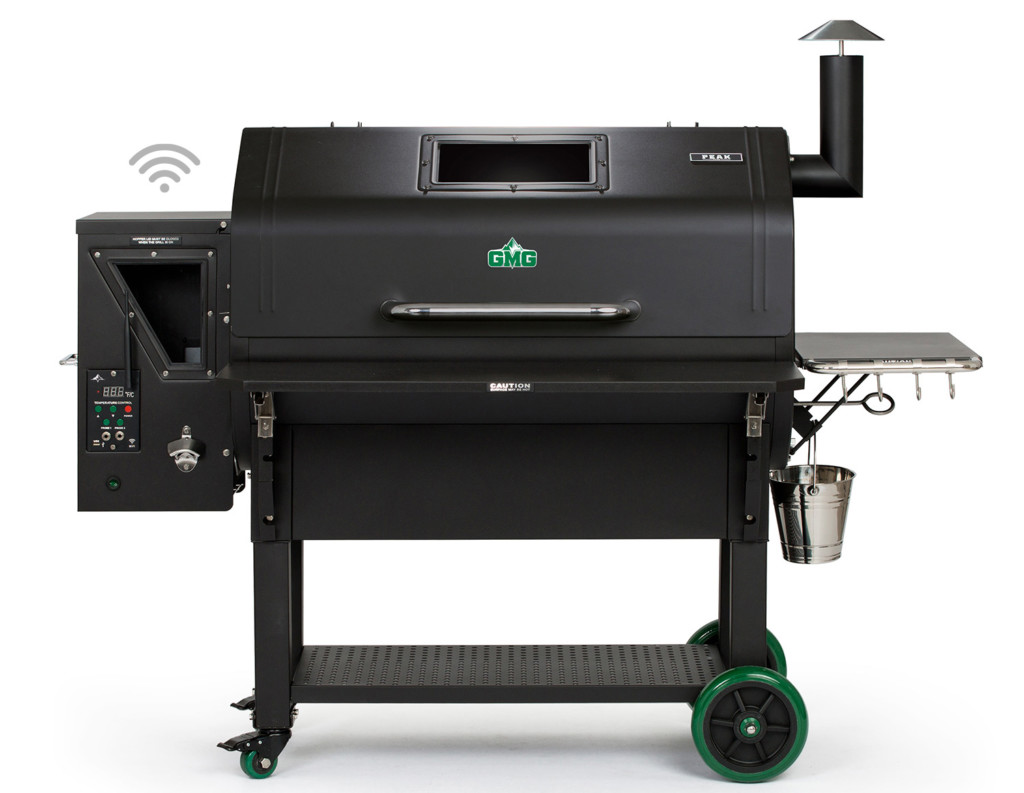 Dimensions
64" L x 46" H x 33" W
Cost
Low to Mid-Range
Maintaining Heat
Heats up in approx. 15 minutes and varies 15-20 degrees during the cook.
Pros:
It has an automatic temperature control feature and is self-igniting.
External burn pot cleanout port
Viewing window in the lid and pellet hopper
There is WiFi smart control technology allowing it to be controlled from a phone with the GMG App.
In the event of a power outage, the smoker can run off of 12 volts.
Cons:
Not much customization is available in the wood smoke flavor.
Beneficial Add-Ons:
To get the most from this smoker, we recommend purchasing its rotisserie kits, additional racks, and the pizza oven attachment. It cooks pizza like a wood fire pizza oven. You can purchase a thermal blanket to save 20% more of your pellets in the winter.
This is a high-quality pellet grill that performs exceptionally well in any climate.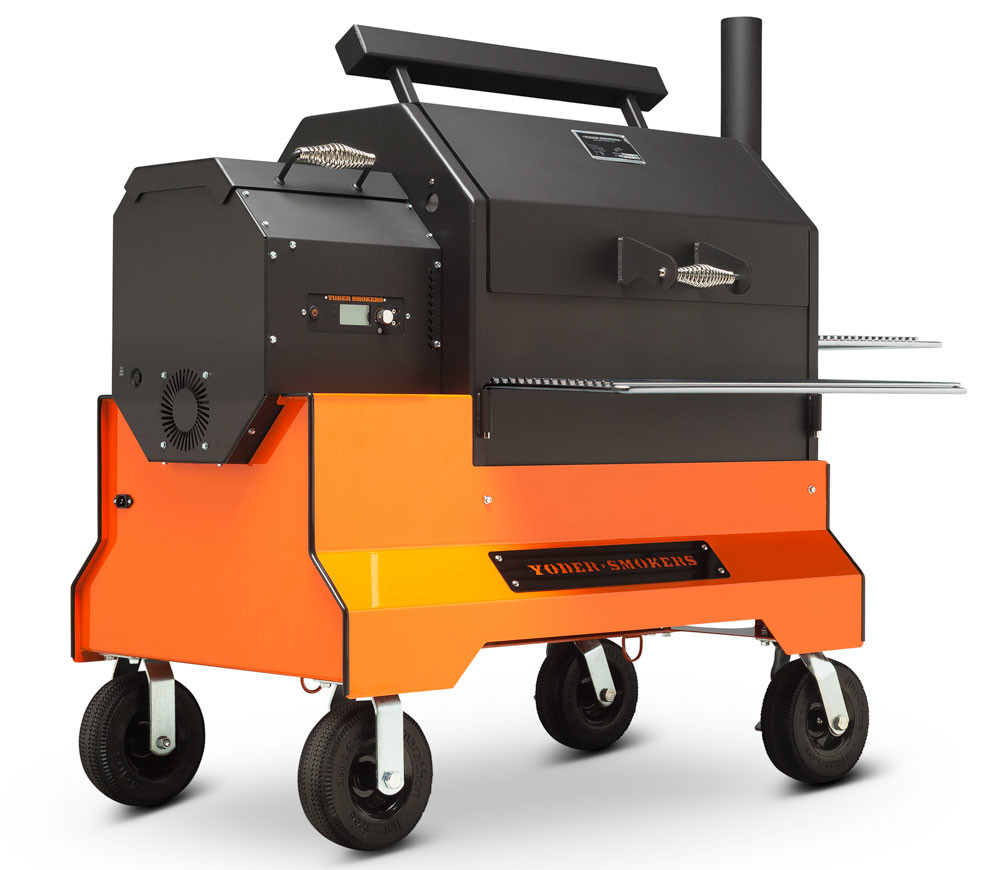 Dimensions
64" L x 54" H x 38" W
Cost
Mid-Range
Maintaining Heat
One of the fastest heating pellet grills on the market. It holds a steady temperature and can be heated up to 600 degrees.
Pros:
Built in the USA, Kansas, and made of 3/16" steel.
Has a ceramic igniter and is self-lighting.
Interior components are made of stainless steel
Includes 2 integrated food probes and probe port
Removeable section of heat shield for direct grilling/searing
WiFi capable control board through their mobile app
Industry-leading warranty
2nd level cooking rack brings cooking space to 1,070 sq. in.
Cons:
We will admit that this is one of our favorite smokers and have a hard time finding any cons about it. The price is higher, but you will certainly be getting above and beyond what you'll pay for it.
Beneficial Add-Ons:
To get the most out of this smoker, there is an optional cast-iron griddle and grill grate kit to add versatility and an infrared-style searing station.
Which smoker is the best for you?
These three may be our favorites, but ultimately, the best product for you will be determined by your needs. If you still haven't found what you're looking for, you can check out more of our Grills and Smokers or talk to our experts here at Coalway.