Your Guide For Choosing The Best Gas Grill
Purchasing a gas grill can be a complicated and long process, especially if you don't exactly know what you're looking for. With so many different brands and types of gas grills, each has their own pros and cons. But before you do any grill searching, we recommend that you consider a few things beforehand. The most important things to think about before getting a gas grill are; budget, brand/type, size of grill, features, BTUs, and durability.
Type of Gas Grill 
As you might already know, gas grills either hooked up and heated by natural gas, or a propane tank. It's your choice to decide which kind you would like to use. Keep in mind there isn't really any difference in cooking quality for either one. So when making this decision, consider availability, and convenience. Let's go over a couple pros and cons for both.
Natural Gas Grills
If you already have natural gas in your home, then it would make most sense to utilize it for grilling as well. Natural gas, just like water and electricity, is piped all continuously throughout your home.
A popular choice with natural gas set-ups tends to be built-in gas grills rather than free-standing. The convenience with natural gas is that you will never have to worry about running out of fuel to cook with, like how you would with propane.

Propane Gas Grills
Without having a natural gas line at your home, propane is the next best go-to choice for gas cooking. The standard propane tanks that hold the fuel used for cooking, can be purchased at almost any hardware or grocery store in your area. Only thing is, it is your responsibility to take the propane tank to be refilled once it is empty. Although this sounds extra, it is actually very pain-free and easy to do. Since it isn't connected to a gas line, propane gas grills are also a lot more mobile. If you're cooking out back and want to move the grill somewhere closer to the house, it's easier to do. Typically, grills that use propane are mostly free-standing.
*Also it is to be noted that most newer grills today, have the option of coming with a converter. This means that if you are buying a propane gas grill, the converter is what will allow you to covert that propane over to natural gas.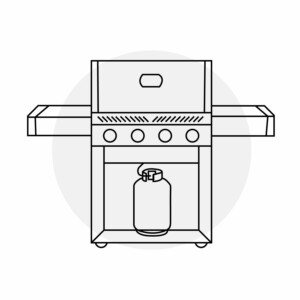 Choose Your Grill Size
This is one of the most important steps when buying a new gas grill to cook on. The size determines how much cooking space you'll have available. Most of the time, larger grills have more burners, which can dictate what types of food you can cook.
With more burners available, you'll have the ability to cook larger items and more of them. Consider how many people you plan on cooking for when making this decision. Keep in mind that you can always turn off some burners if you don't need them, but you can never make your grilling space larger after already having the grill.
Small to medium grills might have a cooking surface of about 20″-35″, whereas large to extra large grills might have a cooking surface of 35″-45″+. If you have a lot of guests over or have a large family, definitely consider a larger grill. But if you live alone or just with a spouse, going smaller isn't necessary a bad thing, and it can save you money and space!
Grill Features
The features of your grill depend entirely on your overall style of cooking and also budget. Some features may include things such as: side burners, warming ovens, smoking trays, multi-level cooking racks, and much more. Having more features on your gas grill will of course add costs, but if these are important to you, then go all-in. If you don't want to spend the money up front, consider buying the grill and getting add-ons later once you have done some research. Many of our gas grills come in different shapes and sizes and include a variety of beneficial features that will make  your cooking process more convenient. See some of our gas grills here.
Durability & Quality
Of course it is super important to get a gas grill that will last you many years. You are going to want a grill that won't deteriorate over time, and will produce the results you're looking for. Make sure you know what you're buying and how it was made. From the quality of parts, to the warranty options available, choose a gas grill that is reliable and made with great quality. We have many units in stores that are built from trusted manufacturers that we have manually tested. We want to give you options, but also ensure each brand we sell, is high end and designed to stand the test of time. A few reliable brands of gas grills we recommend are, Napoleon Gas Grills, Halo Flat Top Grills, and Meadow Creek.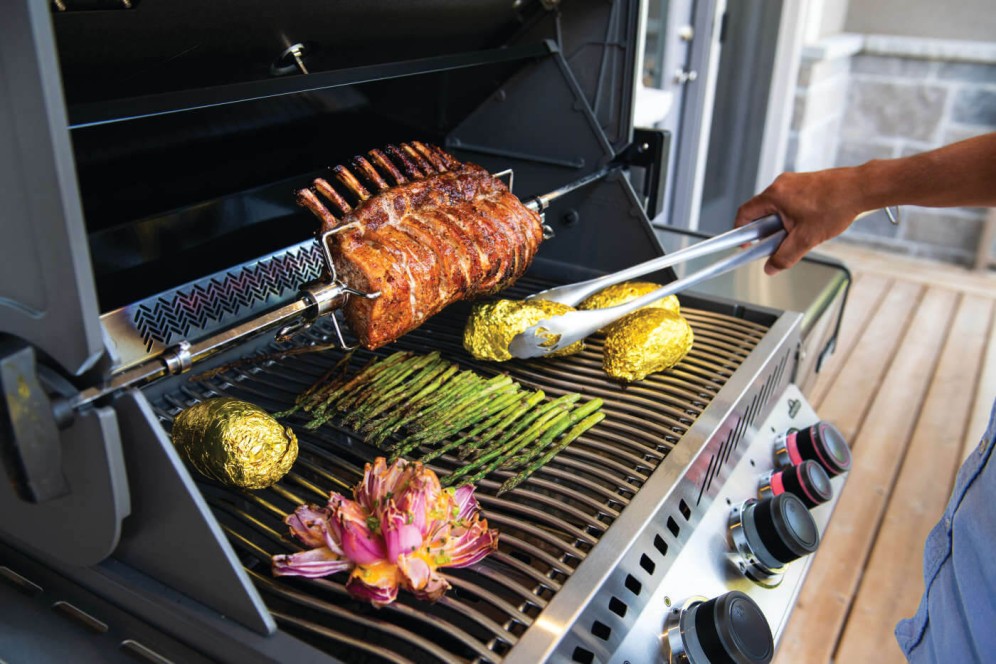 Final Considerations
Make sure you've came up with a strategic plan for getting your new gas grill. By following some of the steps above, and doing research, you should be able to decide which gas grill is right for you.
Decide if you need propane or natural gas based on what you have available and how your set up is. By knowing how many people you usually cook for, and what types of food you like cooking, choosing the correct grill size should also be an easy step. Of course the larger the cooking surface, the more expensive the gas grill becomes. But, some people need larger grills to cook for their families, parties, graduations, and games. It comes down to knowing your style of cooking, and making a decision based off that. Don't overthink this process, because that is also easy to do. Simply consider your budget, and some of the tips above, and next thing you know it,  you'll be breaking in that brand new gas grill for the first time!