Big Green Egg vs Kamado Joe: Key Differences
If you're a grilling enthusiast or just enjoy barbecue, there will come a time when you're ready to upgrade your grill. Why not buy a grill that has been around for many years that will allow you to grill, smoke, bake and much more. I am specifically talking about kamado grills. You might ask, what is a kamado grill and what's so special about? Well, kamado style grills like Big Green Egg and Kamado Joe, are significantly versatile. Not only can you grill on them, but you can also smoke, roast, and cook all of your food together or separately. You can also choose to cook direct or indirect. From fish, meat, vegetables, and chili, to bread, and pies, you can make just about whatever you want on a kamado grill.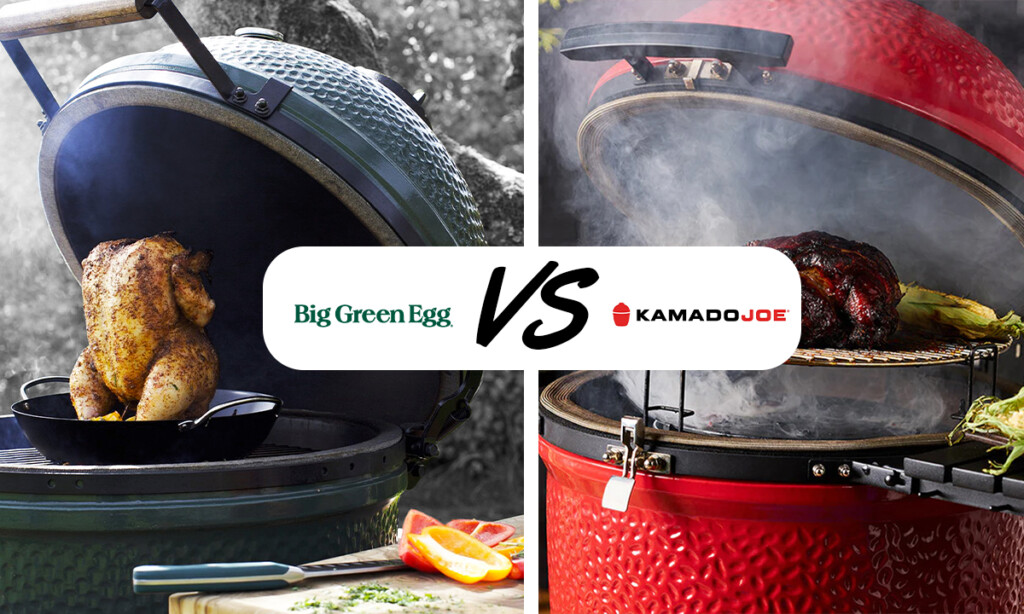 Today we'll be discussing the two well-known brands of kamado grills; Big Green Egg and Kamado Joe.
Big Green Egg has been around for decades and is best known as the kamado grill.
Despite being a lot newer, the Kamado Joe has began to make a name for themselves and has created competition.
In this article, I will discuss key differences between the two, and leave it up to you to decide which one you think is better.
So What's The Difference? 
You may be asking yourself how many differences there can really be between two kamado grills?
The answer is… quite a few.
Many of these key differences are subtle and hard to notice… but not this one.
1. Big Green Egg vs Kamado Joe Color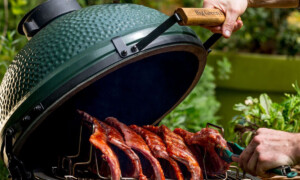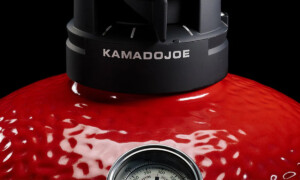 This is an obvious difference you notice right away. Big Green Egg is green and the Kamado Joe is a bright red color. Although the color won't effect any function of the grills, it is simply for an aesthetic.
The bright red color will most definitely stand out in your backyard, whereas the green color on the Egg is more subtle and blends in with the environment better.
At the end of the day it comes down to personal preference.
2. What Each Brand Offers 
It's time to take a look at what each kamado brand offers for products.
Big Green Egg 
Big Green Egg offers a total of 7 different models for you to choose from.
Sizes are as follows; Mini Big Green Egg, MiniMax Big Green Egg, Small Big Green Egg, Medium Big Green Egg, Large Big Green Egg, XLarge Big Green Egg, 2X Large Big Green Egg.
A strength for BGE is that their grills range from 10″ to 29″. That is a lot of different size options available.
Now lets see how Kamado Joe compares with their products.
Kamado Joe
Kamado Joe offers 12 different sized models. They do their sizing by series; Series I, II, and III.
Series I is the oldest collection and has very few features and add-ons. (Classic Joe Grill – Series I, Big Joe Grill – Series I)
Series II is in the middle, and has a couple new additions but is still older. (Classic Joe Grill – Series II, Classic Joe Grill – Series II Standalone, Big Joe Grill – Series II, Big Joe Grill – Series II Standalone)
Series III is the newest series with innovative features and accessories on the grills. (Classic Joe Grill – Series III, Classic Joe Standalone Grill – Series III, Big Joe Grill – Series III)
There are also a few more Kamado Joes that are not included in any of the series. For example there is the Konnected Joe Digital Charcoal Grill & Smoker, Joe Jr, and Pellet Joe.
For the most part, the primary difference between these units is just size.
Kamado Joe's smallest grill is 13.5", and their largest is only 24."
3. Vents 
Ventilation plays a big part in internal heat control. The more airflow, the hotter the temperature gets inside your kamado cooker.
If you look here at these two vents, you can tell Big Green Egg's is a lot simpler. Cast iron top vent, and lower vent door.
This is a very standard set up for a vent. It is important to keep in mind that because this is cast iron and there is nothing to protect the rain from getting into it, it has the potential of rusting over time.
Kamado Joe on the other hand, has a more complex vent. Their cast aluminum Kontrol Tower top vent ensures easy and precise temperature control.
Also Kamado Joe's is built to keep rainfall out, so no need to buy an extra accessory. Plus since it is aluminum there's a less chance of rust compared to cast iron!
4. Grates 
Let's see what each brand has to offer for cooking grates.
Both Big Green Egg and Kamado Joe have stainless steel grates.
Both grates work just fine. Big Green Egg single-level grates, but height can be adjusted if needed.
Kamado Joe has a "Divide and Conquer heating system", with two grate tiers in Series I and II, and three grate tiers in Series III.
This system basically just means you can maximize the use of cooking space, do multiple foods at once, and at different temperatures. So yes Kamado Joe's interior grates are a lot more complex, but some may find them more useful.
5. Lids
Now let's compare each lid and see how much different they are.
Because kamado grills are known for being heavy, opening and shutting the lid is something that should be done carefully.
The last thing you want to do, is crack your ceramic grill.
Big Green Egg offers a spring assist hinge to support easier opening. It is to be noted that this does not help with closing… so be careful when shutting the lid.
Kamado Joe on the other hand, has an air lift hinge made to decrease the weight of the dome. This also allows you to easily open and close the dome with a slight touch.
6. Stands & Shelving  
After purchasing either kamado, it is up to you on how you want to set it up outside.
Some decide to put the kamado built-in to a table or outdoor kitchen. Others simply get the bottom stand and that allows the grill to sit by itself.
Big Green Egg sells their grills only by themselves. Without including bottom stand or tables, you will need to get the package that includes them (this will cost additional $).
Eggheads call the stands on their grills "nests", and shelves "mates". These nests are powder coated aluminum which will remain rust-free. You can also add many additional things to your Big Green Egg such as; cabinet doors, hooks, spice holders, utility racks, shelves, and more.
Green Egg also has lock-in wheels and different types of options for the bottom stands.
Kamado Joe does offer standalone units, but sell most of their grills with the included cart which is already added into the total price.
The frames on the legs, are made with powder coated steel frames, with locking wheels, and aluminum side shelves.
There is a chance that over time, these steel frames will rust. Although Kamado Joes carts are definitely not as stylish as Big Green Eggs', they do seem a little simpler.
Both have their advantages and disadvantages.
6. Accessories 
When you purchase a Big Green Egg, that is pretty much all you get. All of the accessories are normally sold separate in less you are purchasing some package deal.
No worries though, because BGE offers a huge variety of "EGGcessories" to make sure you have what you need.
These accessories include everything from charcoal, cooking utensils, grill covers, ConvEGGtors, EGGspanders, to seasonings, sauces, and even cookbooks!
Take some time to research just how many different accessories there are, and purchase what you need.
Check out this video we found that is helpful and goes through some of the best accessories for the BGE.
Kamado Joe differs from Big Green Egg in the way they handle accessories. They include every accessory needed with the purchase of your Kamado Joe grill.
This includes half moon heat deflectors, charcoal basket, cooking grates, firebox, built-in thermometer, side shelves, ash tool, slide out ash drawer, and more!
On top of that, they also offers a bunch of other accessories you can purchase separately.
These include a Joetisserie attachment and basket kit, lump charcoal and fire starters, an IKamand controller for remote temperature adjustment, a grill cover, a griddle, pizza stones, and other cooking surfaces.
Even though Kamado Joe's list of accessories is large… it truly can't compete with Big Green Egg's.
Now that we've discussed some of the differences, let's look at the warranties.
Warranties
We think it's important to understand the warranties for both of these kamado grills. That way, you know how long it'll last.
Here are the warranties for Big Green Egg and Kamado Joe.
Big Green Egg Warranty 
The Big Green Egg ("BGE") was the first ceramic grill manufacturer in the world to stand behind its products by offering a Limited Lifetime Warranty, and has maintained this standard for over a quarter-century!
BGE's Limited Lifetime Warranty covers the ceramic cooker materials and workmanship.
The metal components are covered by a limited 5 year warranty.
Wood parts and thermometers are covered for one year.
This is a very good warranty and almost seems unbeatable! Let's look at Kamado Joe's now.
Kamado Joe Warranty 
Kamado Joe offers a limited lifetime warranty on ceramic parts.
There is a 5 year warranty on the metal and cast iron parts, a 3 year warranty on electronic components, and a 2 year warranty on accessories.
This warranty is very similar to BGE's!
Prices
Let's take a look at the pricing structure for both brands. Keep in mind, these are our current prices and they may be liable to change in the future.
Big Green Egg Pricing
These are the standalone units only, package pricing differs. 
Kamado Joe Pricing
These are the only Kamado Joe units we are currently carrying. 
Joe Jr. (Cart, Heat Deflector, Tools Included) – $499.00
Classic Joe Series II (Heat Deflector, Tools Included) – $1,199.00
Classic Joe Series II w/ Cart (Side Shelves, Heat Deflector, Tools Included) – $1,299.00
Big Joe II w/ Cart (Side Shelves, Heat Deflector & Tools w/ BJ-CBH) – $1,999.00
Classic Joe Series III w/ Cart (Hyperbolic Insert, Aluminum Side Shelves, Heat Def, D&C) – $1,999.00
Big Joe Series III w/ Cart (Hyperbolic Insert, Aluminum Side Shelves, Heat Def, D&C) – $2,999.00
As you can see, some of the Kamado Joe pricing is higher than Big Green Eggs.
This is due to Kamado Joe including many accessories with their packages. BGE pricing shown is just for the units by themselves, therefore, they will show as cheaper.
With accessories added, Big Green Eggs pricing will increase and be more comparable to Kamado Joe.
Another reason for higher Kamado Joe prices is the features. They have added many additions to the new units such as air lift hinges, mesh fiberglass gaskets, the Kontrol Tower top vent, and more.
Which Is Better Big Green Egg or Kamado Joe?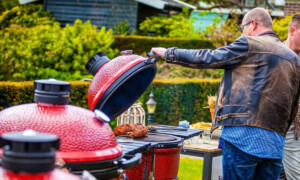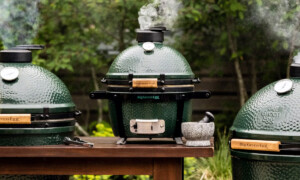 After lots of research and comparison, both of these kamado grills are solid.
But, Big Green Egg is our winner!
BGE has held a top spot in the kamado community for years on end. They have been in the game longer than Kamado Joe and have proven to be the kamado grill to go with.
The simplicity with the Big Green Egg makes it so easy to operate for just about anyone. Along with that, their community of "EGGheads" is so supportive and incredible.
At the same time though, Kamado Joe is still a fantastic grill! With its innovative features and accessories, the standards are definitely high.
But really… there is no one better than the other. It is all opinion based on features of both. Some like BGE, others prefer to use the Kamado Joe. It all comes down to personal preference.
We hope this blog helps you understand the differences between each power house kamado grill. Now that we are carrying both in stores, you should come check them out!
Our BBQ professionals can help answer any questions and make sure you walk away with the grill of your dreams!